I recently ordered a box set for this anime, to which I was looking forward to seeing for some time. I am happy to say that I wasn't in the least bit disappointed.
Air is adapted from a Visual Novel by Key, who have a history of releasing amazing things like this, and this anime is no exception.  It is one of the most titillating and beautiful anime I have ever watched, it almost put me in a dreamlike state.  Seriously, it took me a while to emerge from it and shake it out of my head.
It takes place in a coastal town based on Kasumi, Japan (though some of it takes place in historic japan)
I'd call it a fantasy/slice of life drama/comedy, even though it goes so far beyond that.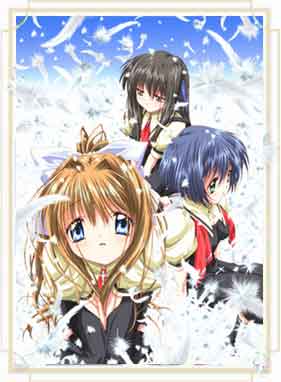 The art is what immediately caught my attention. The art and the animation. So fluid and beautiful in a way that takes anime to a new level. In fact, Air was the first anime to be released in Blu-Ray format. The first anime in HD! Amazing!
Unfortunately, I had to order it DVD format (I watched the first episode in HD, though, at my friend who recommended it….and it BURNED)
The movement is not choppy at all, the colors and lights are seamless, and the way that nature and movement is depicted is beyond perfect. Most anime seems flat, colors seem bleached. This world is alive and rhythmic. From the wind in the fields to the clouds, and the water, which is gorgeous. So surprising for this kind of anime.
Which brings us to the story and setting. The story begins with Yukito, a traveling puppeteer with a unique talent… He meets a young girl, being stranded with no money(and little success from the mightily stale local children). Misuzu is an accident prone sweetie who apparently uses the word "Gao" as a sentiment.
I won't get too far into the story, it goes through multiple arcs and many characters with each their own mysterious past. I will say that this anime can be brutally sad.
Very sad to a new edge. Yet, I also found myself laughing hysterically, the humor of this anime is not like most. Not perverted or fluffy, just genuine.
Now I am a dubfan, and they did a very good job with the english cast, the voices have depth and are not canned. And the setting of this anime, a nostalgic little town on the coast, can almost seem alive at times with noises and movements.
The soundtrack also adds to the overall unforgettable effect of the anime(the opening song still sends chills up my spine) And most of the background music is very calming and ambient piano tracks(and not even the cheesy soap opera shit)
This show has restored my faith in anime for years to come. It is a great and epic story. It has this calming effect I mentioned before. And it just…dazzled me.
Look this thing up and give it the support it deserves. Even if you are an action anime fan or not a fan of anime at all. This is a living and breathing work of art. In fact, a breath of fresh air.
(Opening sequence in Blu-Ray)